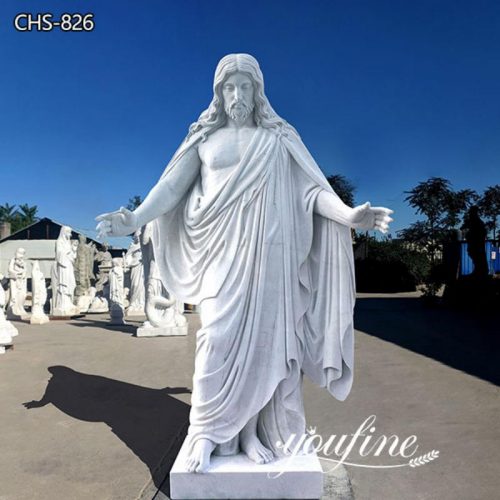 White Life-size marble Jesus Statue-Outstretched Arms Blessing Wholesale CHS-826
The marble Jesus sculpture is one of the indispensable pious and symbolic sculptures in the church. This life-size sculpture of Jesus, carved from high-grade natural marble, is exquisitely detailed.
Item No: CHS-826
Size: Customized Size You Want
Material: Natural Marble Stone
Insurance: Cover All the Risk
Package: Strong Wooden Crate
Advantage: Factory Direct; Door-to-Door Delivery
Technique: Art-quality Hand Carved, Polished
Get Price
Send
Catholic Jesus Statue Detail:
Our marble Jesus statue are hand-carved by professional and top artists. Hand carving is more about the artist's skill, the processing of details is better, and at the same time, it is more time-consuming. YouFine is also a factory that pays attention to the quality of sculpture and loves sculpture, so our sculptures are all hand-carved by skilled artists. This life-size catholic Jesus carved in high-grade white marble is perfect for church whether placed indoors or outdoors.
Excellent Carving skills:
YouFine owns artists with decades of experience in carving. They mastered a variety of ancient carving techniques, all of which required long training by the artists. Some of our artists are devout Catholics who would take the carving of these sculptures very seriously. They could capture every detail and carve carefully with professional tools. It might take them a day to carve a single detail. For example, the facial expression of Jesus must be observed very carefully, and the carving must be constantly adjusted with delicate tools to make this marble Jesus statue look more realistic.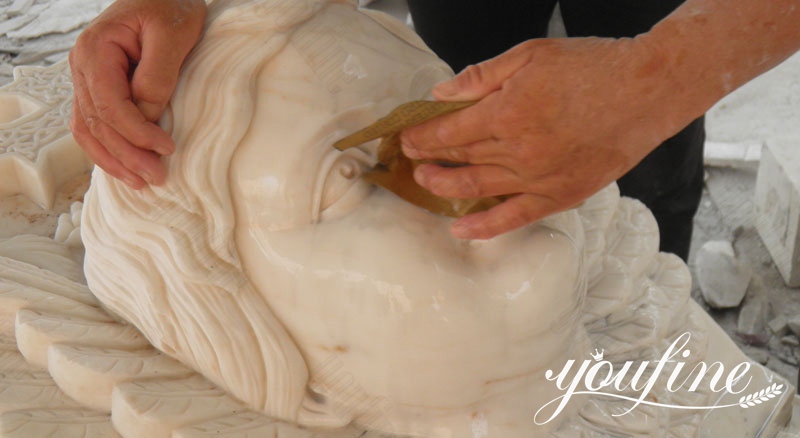 A-grade Marble As Raw Material:
YouFine's sculptures are carved from carefully selected A-grade marble. And we have a variety of colors of high-quality marble raw materials for you to choose from. All those high-level natural marble sculptures look very beautiful in the light, especially after polishing could clearly see some regular marble veins. More importantly, the quality of natural marble is hard and weathering resistant. A sculpture made of marble has a lifespan of about a hundred years, so marble has always been considered the main raw material for commemorative sculptures. Therefore, marble is a very suitable material, not only has the aesthetics of the sculpture's appearance but also has a long storage time.
YouFine's Advantages:
First of all, YouFine is a factory located in Quyang County, Hebei Province, which has a long history as the "hometown of carving". So we have unique marble resources. Secondly, we mainly focus on the sculpture of religious sculpture and have very rich experience in religious sculpture. Third, we have a professional design team, which could support the customization of different sizes, different designs, and different materials of marble sculpture.
YouFine specialized in carving mainly five kinds of popular church sculptures, Virgin Mary Statues, Jesus Statues, Altar Statues, Pulpit Statues, and font statues. So if you are looking for a religious catholic Jesus statue, we are definitely the right choice.